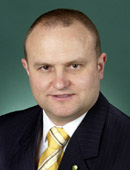 Jason Wood (Lib)

---
His Liberal Party
website and his
campaign website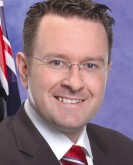 Rodney Cocks CSM (ALP)

---
His ALP website and
his campaign website


---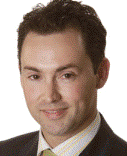 Craig Beale (Dem)

---
His Democrats website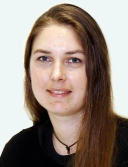 Bree Taylor (Grn)

---
Her Greens website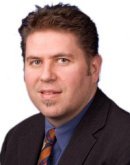 Jim Zubic)

---
His Family First website

Location: Melbourne: Berwick, Emerald, Ferntree Gully, Narre Warren
Division named for: Charles La Trobe Lieutenant-Governor of Port Phillip District 1851-1854
---
Median weekly family income: $1,082 (34th highest)
Persons born in non English speaking countries: 8.4% (79th highest)
Persons in professional occupations: 24.4% (82nd highest)
Persons aged 65 and over: 9.2% (123rd highest)
Couple families with dependent children: 44.5% (21st highest)
Dwellings being purchased: 42.5% (5th highest)
---
Sitting member: Jason Wood (Liberal), elected 2004
---
Born: 24 May 1968, Sydney. Career: Police officer
---
1996 two-party majority: Liberal 01.4
1998 two-party majority: Liberal 01.0
2001 two-party majority: Liberal 03.7
Effect of 2004 redistribution: no change
2004 primary votes: Labor 33.8, Liberal 51.2, Green 9.4
2004 two-party majority: Liberal 05.8
---
2004 enrolment: 84,835
2007 enrolment: 92,029 (+08.5%)
---
La Trobe was created in 1949, covering most of Melbourne's outer eastern suburbs. It was later cut back to centre on the Dandenong Ranges townships. In the 1990s the seat was extended southwards to take in fast-growing and increasingly affluent suburbs like Berwick and Narre Warren, which are high-mortgage areas sensitive to interest rates and other hip-pocket issues. La Trobe is thus a typical mortgage belt seat, with levels of families with dependent children and dwellings being purchased among the country's highest, and a fairly low level of people in professional occupations. In the 1970s La Trobe was a key marginal seat and was first won by Labor in the Whitlam victory of 1972. In 2004 the Liberals polled over 70% of the two-party vote in Clyde and Narre Warren East, and polled over 60% in all three Berwick booths, while Labor polled best in the hill towns of Belgrave, Cockatoo, Ferny Creek and Sassafras. Members have included Richard Casey, later Lord Casey and Governor-General 1965-69. Jason Wood won the seat in 2004. Since being reclaimed by the Liberals in 1990, La Trobe has grown increasingly secure, mainly because of the increasing affluence and conservatism of the Berwick - Narre Warren area. Nevertheless it remains within reach for Labor in a good year, as the polls are suggesting that 2007 will be, but Wood will be hard to beat now that he has had a term to establish himself. Labor's candidate was Greg Pargeter, an official of the Firefighters Union. In August, however, Pargeter withdrew and the Labor National Executive nominated Rodney Cocks.
---
Candidates in ballot-paper order
---
Jason Wood (Liberal) is the sitting member: see biography above.
Rodney Cocks CSM served with the Australian Army in East Timor and with the UN in Iraq and Afghanistan, and survived the Bali bombing. He was Victorian of the Year in 2005.
Bree Taylor (Greens) is a law graduate of Monash University.
Jim Zubic (Family First) is a manager.
Kurt Beilharz (CEC) is a pensioner.
Surome Singh (Liberty and Democracy) is a student.
Craig Beale (Democrats) is an electorate officer with Senator Lyn Allison. He contested Melbourne Ports in 2004.











&nbsp