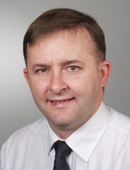 Anthony Albanese (ALP)

---
His ALP website and
his campaign website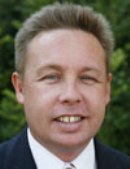 Daniel Caffery (Lib)

---
His Liberal Party
website


---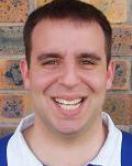 Jeffrey Gabriel (Dem)

---
His Democrats website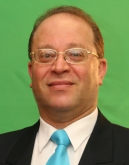 Dr Ehab Hennien (CDP)

---
No website



Pip Hinman (SA)

---
Her Socialist
Alliance website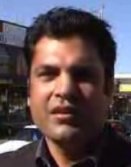 Sayeed Khan (Grn)

---
His Greens website

Location: Sydney: Ashfield, Enmore, Leichhardt, Marrickville
Division named for: Hon Ted Grayndler, trade unionist and NSW state MP
---
Median weekly family income: $1,171 (26th highest)
Persons born in non English speaking countries: 31.1% (12th highest)
Persons in professional occupations: 36.9% (19th highest)
Persons aged 65 and over: 11.8% (103rd highest)
Couple families with dependent children: 33.1% (130th highest)
Dwellings being purchased: 20.0% (130th highest)
Dwellings are flat, unit or apartment: 36.1% (9th highest)
---
Sitting member: Anthony Albanese (Labor), elected 1996, 1998, 2001, 2004
---
Born: 2 March 1963, Sydney. Career: Bank officer, research officer to Hon Tom Uren MHR 1985-89, Assistant General Secretary NSW ALP 1989-95, senior policy adviser to the Premier of NSW 1995-96. Member Opposition Shadow Ministry since 1998. Parliamentary Secretary to the Shadow Minister for Family and Community Services 1998-2001, Shadow Minister for Ageing and Seniors 2001-02, Shadow Minister for Employment Services and Training 2002-04, Shadow Minister for Environment and Heritage 2004-06, Shadow Minister for Water 2005-06
---
Shadow Minister for Water and Infrastructure from 10 December 2006
---
1996 two-party majority: Labor 16.4
1998 two-party majority: Labor 22.3
Effect of 2001 redistribution: no change
2001 two-party majority: Labor 21.3
2004 primary votes: Labor 51.2, Liberal 24.3, Green 21.1
2004 two-party majority: Labor 22.6
Effect of 2006 redistribution: 01.3 shift to Liberal
2007 notional two-party majority: Labor 21.3
---
2004 enrolment: 85,864
2007 enrolment: 95,042 (+10.7%) (new boundaries)
---
Grayndler was created in 1949, based in Sydney's inner western suburbs centred on Marrickville. Its boundaries have been changed fairly radically several times since, but have now returned to something close to their original form, although extending further north into Ashfield and Leichhardt. In the 1950s these areas were still among the poorest parts of urban Australia, verging on being slums. Today this is a wealthy electorate, with more than a third of the population working in professional occupations and a level of median family income in the top 20%. Nearly 30% of residents were born in non English speaking countries. This is now one of the leading inner-city multicultural electorates. What has not changed is the strength of the Labor vote, although much of it now comes in the form of preferences from the Greens, who polled 21% of the vote here in 2004. In two-party terms, Grayndler is the safest Labor electorate in Australia. It could be lost to the Greens if they succeeded in polling more votes than the Liberals and holding Labor's primary vote below 50%, but this is unlikely. In 2004 Labor carried every booth against the Liberals with at least 60% of the two-party vote: Labor polled over 80% in Camdenville, Camperdown South, Newtown North and The Warren, and over 70% at every booth in Marrickville, Petersham and Summer Hill. The best Liberal result was 37% in Ashbury. Members for Grayndler included Labor veteran and minister Fred Daly and Speaker of the House Leo McLeay. Anthony Albanese has held the seat for Labor since 1996. Albanese is a leader of the Labor Party's left faction and has been on the Opposition front bench since 1998: he is currently in the important portfolio of Water and Infrastructure.
---
Candidates in ballot-paper order
---
Pip Hinman (Socialist Alliance) is a journalist with Green Left Weekly.
Daniel Caffery (Liberal) is a salesman and has served in the Australian Army.
Dr Ehab Hennien (Christian Democrats) is a dental surgeon.
Anthony Albanese (Labor) is the sitting member: see biography above.
Patrick O'Connor (Socialist Equality Party) is a journalist.
Sayeed Khan (Greens) is an information technology consultant. He is a Marrickville City councillor and Vice Chair of the Ethnic Communities Council of NSW.
Jeffrey Gabriel (Democrats) is a law clerk.