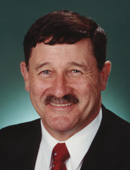 John Cobb (Nat)

---
His Nationals
website and his
campaign website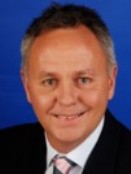 Michael Allen (ALP)

---
No website


---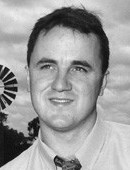 Jeremy Buckingham (Grn)

---
His Greens website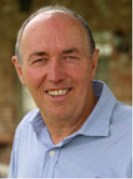 Gavin Priestley (Ind)

---
His website

Location: Central NSW: Bourke, Cowra, Narromine, Orange
Division named for: Indigenous name of the Lachlan River
---
Median weekly family income: $798 (117th highest)
Persons born in non English speaking countries: 2.4% (148th highest)
Persons of Indigenous origin: 7.3% (7th highest)
Persons in professional occupations: 30.0% (40th highest)
Persons aged 65 and over: 13.5% (70th highest)
Couple families with dependent children: 39.2% (61st highest)
Dwellings being purchased: 21.2% (117th highest)
---
Sitting member: Hon John Cobb (National), elected (for Parkes) 2001, 2004
---
Born: 11 February 1950, Bathurst NSW. Career: Farmer and grazier. President, NSW Farmers Association 1998-2001. Parliamentary Secretary to the Minister for Transport and Regional Services 2004-05. Minister for Citizenship and Multicultural Affairs 2005-06. Minister for Community Services 2006-07.
---
Assistant Minister for the Environment and Water Resources from 30 January 2007.
---
1996 two-candidate majority: Independent over National 13.3
1998 two-candidate majority: Independent over Labor 22.3
Effect of 2001 redistribution: Cannot be calculated
2001 two-candidate majority: Independent over National 25.0
2004 primary votes: Labor 16.5, Liberal 16.1, National 12.9, Green 2.3,
Andren 50.2
2004 two-candidate majority: Independent over Labor 21.2
Effect of 2006 redistribution: Cannot be calculated
2007 notional two-party majority: National majority unknown
---
2004 enrolment: 87,358
2007 enrolment: 89,080 (+02.0%) (new boundaries)
---
Calare has existed since 1906, when the old seat of Canobolas was renamed, and for most that time has been in the Central West of NSW, based on towns like Orange, Forbes, Parkes and Cowra. Like all rural seats, it has a low level of median family income and a low level of people born in non English speaking countries. Although it has occasionally been won by Labor, Calare has usually been a conservative seat. At the 1977 redistribution it was dragged eastwards, losing its western rural areas and gaining the Labor strongholds of Bathurst and Lithgow. Labor won it in 1983 and held it until 1996. David Simmons won Calare for Labor in 1983. In 1996 he retired, and Labor, knowing that the seat would otherwise be lost to the Nationals, "ran dead" and allowed a popular independent, Peter Andren, to win the seat. Andren, despite being far to the left of most of his constituents, held the seat without difficulty. The 2006 redistribution, however, reversed the change of 1977 and turned Calare back into a western rural seat, removing Bathurst and Lithgow and extending it as far west as Bourke and Wilcannia. Of the voters in the new Calare, 54% were in the old Calare, 42% were in the old Parkes, and 4% were in the old Gwydir. As a result, Andren has withdrawn from the contest (he was intending to contest the Senate, but in August he withdrew for health reasons). The sitting National member for Parkes, John Cobb, has announced that he will be standing for Calare at the election, and he should now be regarded as the sitting member. Cobb had an unhappy time as a junior minister and was demoted to Assistant Minister for the Environment and Water Resources in January 2007. His main opponent will probably not be the ALP candidate but the independent Gavin Priestley, who will enjoy Andren's support.
---
Candidates in ballot-paper order
---
David Simpson (CEC) is a transport manager.
Michael Allen (Labor) is an Orange barrister.
Jeremy Buckingham (Greens) is a stonemason and an Orange City councillor.
Michael Cobb (National) is the sitting member for Parkes: see biography above.

Gavin Priestley (Independent) spent 20 years with Telstra, including five years as Telstra Country Wide's Area General Manager for western NSW. He also runs a superfine merino sheep farm at Hargraves.