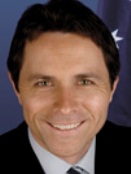 Jason Clare (ALP)

---
His ALP website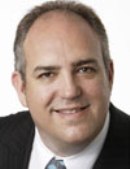 Mark Majewski (Lib)

---
His Liberal Party website


---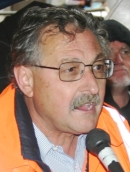 Raul Bassi (SA)

---
His Socialist Alliance website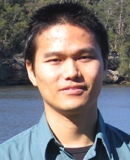 John Ky (Grn)

---
His Greens website

Location: Sydney: Bankstown, Bass Hill, Cabramatta, Villawood
Division named for: Gregory Blaxland, explorer
---
Median weekly family income: $781 (122nd highest)
Persons born in non English speaking countries: 42.0% (3rd highest)
Persons born in South-East Asia: 12.8% (2nd highest)
Persons professing Islamic religion: 11.7% (3rd highest)
Persons in professional occupations: 16.7% (139th highest)
Persons aged 65 and over: 13.2% (73rd highest)
Couple families with dependent children: 42.0% (32nd highest)
Dwellings being purchased: 17.5% (140th highest)
---
Sitting member: Michael Hatton (Labor), elected 1996by, 1998, 2001, 2004. Retiring in 2007
---
1996 two-party majority: ALP 13.0
1996 by-election majority: ALP over Independent 19.1
1998 two-party majority: Labor 22.1
Effect of 2001 redistribution: 02.4 shift to Liberal
2001 two-party majority: Labor 15.3
2004 primary votes: Labor 53.8, Liberal 31.0, Green 4.6
2004 two-party majority: Labor 12.9
Effect of 2006 redistribution: 02.4 shift to Labor
2007 notional two-party majority: Labor 15.3
---
2004 enrolment: 81,918
2007 enrolment: 91,770 (+12.0%) (new boundaries)
---
Blaxland was created in 1949, and has always been based in Sydney's western suburbs, centred on Bankstown. It has one of the lowest income levels of any urban electorate, one of the lowest levels of people in professional occupations and the third-highest level of people born in non English speaking countries. These factors all make Blaxland a very safe seat for the Labor party. In 2004 Labor carried every booth, and polled more than 70% of the two-party vote at two booths in Bankstown, Condell Park West and Wiley Park West, while the Liberals polled best in Bass Hill West and Georges Hall. The 2006 redistribution has pushed the seat further west to take in most of Cabramatta, the centre of Sydney's South-East Asian community and the most socially deprived urban area in Australia. This has lowered the seat's median family income and made it even safer for Labor. Paul Keating won Blaxland for Labor in 1969, at 25, and was the youngest minister in the Whitlam government. After eight years as Treasurer he successfully challenged Bob Hawke and became Prime Minister in 1991. After defeating John Hewson in 1993 he was decisively beaten by John Howard in 1996, and then resigned his seat. The 1996 by-election was won by Michael Hatton, who had been Keating's electorate officer for eleven years. After eleven years as a backbencher, he was disendorsed by the Labor National Executive in May 2007 and replaced by Jason Clare.
---
Candidates in ballot-paper order
---
John Ky (Greens) is a software engineer.
Mark Majewski (Liberal) is a small businessman and stood for this seat in 2004.
Bob Vinnicombe (One Nation) is a bookseller.
Gabrielle Kent (Family First) is a secretary.
Chris McLachlan (Christian Democat) is a pool diver.
Harry Stavrinos (Independent) is an accountant.
Jason Clare (Labor) is a Transurban executive and former staffer to NSW Premier Bob Carr.
Raul Bassi (Socialist Alliance) is a courier.

&nbsp